Posts for tag: nutrition
By Fishhawk Family Dental
May 21, 2020
Good nutrition is essential for your child's developing teeth and gums as well as the rest of their body. You do what you can to provide them not just nutritious meals but also healthy snacks for other times of the day.
But once they begin school, you can't watch out for them all the time. They could be away several hours where they might be tempted to make unhealthy snack choices.
What can you do to lessen their chances of unhealthy snacking at school?
Engage with the school and their snack offerings. A set of U.S. Department of Agriculture regulatory guidelines called Smart Snacks in Schools sets minimum nutritional standards for snacks offered on school grounds. These guidelines promote whole grains, fruits, vegetables and low-fat dairy products and limit calories, fat, salt and, of particular importance to dental health, sugar. The guidelines, though, are only a minimum, so join with other parents to encourage your school to exceed those snack nutrition minimums whenever possible.
Educate your child about nutrition. Good nutrition starts at home: it's important not only to offer wholesome foods but to also teach your child why some foods are better for their body (and their teeth) than others. By encouraging a lifestyle of healthy eating both in practice and knowledge, you'll find it easier to set limits on their snack choices away from home.
Send snacks with them to school. If you're unsure your child will make the right choices, especially if they're young, than send snacks with them to school. Be sure, though, what you're sending is as appealing as the school choices. Try a little creativity: popcorn with a zing of cinnamon or cheese; decorative snacks; or easy to eat bite-sized fruit or vegetables. The more they like what you're sending, the less likely they'll choose something else.
In some ways snacking could be the Achilles' heel in providing your child the right foods for good dental health. By following the tips above, though, you can help raise the chances they'll eat the best snacks for strong teeth and gums.
If you would like more information on nutrition and dental health, please contact us or schedule an appointment for a consultation. You can also learn more about this topic by reading the Dear Doctor magazine article "Snacking at School."
By Fishhawk Family Dental
May 11, 2020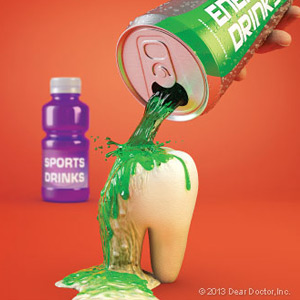 Sports drinks have been widely touted as an ideal way to replenish carbohydrates, electrolytes and, of course, fluids after a strenuous event or workout. But the mixtures of many popular brands often contain acid and added sugar, similar to other types of soft drinks. This can create an acidic environment in the mouth that can be damaging to tooth enamel.
Of course, the best way to replenish fluids after most strenuous activities is nature's hydrator, water. If, however, you or a family member does drink the occasional sports beverage, you can help reduce the acid impact and help protect tooth enamel by following these 3 tips.
Avoid sipping a sports drink over long periods. Sipping on a drink constantly for hours interferes with saliva, the bodily fluid responsible for neutralizing mouth acid. But because the process can take thirty minutes to an hour to bring the mouth to a normal pH, saliva may not be able to complete neutralization because of the constant presence of acid caused by sipping. It's best then to limit sports drinks to set periods or preferably during mealtimes.
Rinse your mouth out with water after drinking.  Enamel damage occurs after extended periods of exposure to acid. Rinsing your mouth out immediately after consuming a sports drink will wash away a good amount of any remaining acid and help normalize your mouth's pH level. And since water has a neutral pH, it won't add to the acid levels.
Wait an hour to brush after eating. As mentioned before, saliva takes time to neutralize mouth acid. Even in that short period of time, though, acid can soften some of the mineral content in enamel. If you brush during this "soft" period, you may inadvertently brush away some of the minerals. By waiting an hour, you give saliva time not only to neutralize acid but also restore mineral strength to the enamel.
If you would like more information on sports and energy drinks and their effect on dental health, please contact us or schedule an appointment for a consultation. You can also learn more about this topic by reading the Dear Doctor magazine article "Think Before you Drink."
By Fishhawk Family Dental
August 05, 2019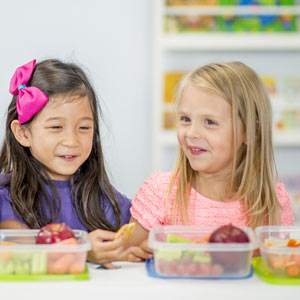 With summer winding down, parents are turning their attention to their kids' upcoming school year. August is often a busy time for families rushing to buy school supplies and fresh sets of clothes and shoes. Although hectic, these last few weeks before school starts are also ideal for focusing on dental health.
As you prepare for the school year, be sure to include these dental health items on your to-do list.
Make a dental appointment. Start the school year off right with a dental cleaning and checkup. Along with daily hygiene, dental visits are key to disease prevention and optimal oral health. Make those appointments early, though: Most dentists report an upsurge in patient visits this time of year.
And if you haven't already, set up an orthodontic evaluation: Having an orthodontist examine your child around age 6 could uncover an emerging bite problem. Early intervention might prevent the need for more costly future orthodontic treatments.
Plan for healthy school snacking. While kids are home on summer break, it's probably easier to keep an eye on the quality of their snacks. But being away from your watchful gaze at school means your children may encounter snacks that are not quite up to your tooth-healthy standards.
Even though schools adhere to federal nutrition standards for food provided on school property, many dentists don't believe they go far enough. Your kids' classmates can also be a source of unhealthy snack choices, so plan ahead to provide your kids an array of snacks to carry to school that they like and that support healthy teeth and a healthy body.
Get a custom mouthguard for your student athlete. If your child is going to play football, basketball or some other contact sport, make sure they have dental protection. A hard impact to the face can cause significant dental damage that's costly to treat, but a mouthguard worn during play can protect the teeth and gums by cushioning the blow.
You can purchase retail mouthguards at your local sporting goods store. Your best option, though, is a mouthguard custom-made by your dentist based on your child's individual mouth measurements. Although more expensive, custom mouthguards offer superior protection, and they're more comfortable to wear.
When the school bell rings, you want your kids as prepared as possible. Make sure their teeth and gums are ready too. If you would like more information about best practices for your child's dental care, please contact us or schedule an appointment for a consultation. To learn more, read the Dear Doctor magazine articles "Snacking at School" and "Athletic Mouthguards."